We know that your child will LOVE this toy
so make sure to order more for Siblings!
Using this, your kid can create amazing drawings with a special stylus
Pencils and paints are no longer needed.
Light Drawing Board is a set of "Draw with light", which will help the child to reveal his creative potential, but at the same time, furniture and wallpaper in your apartment will not be "decorated" with patterns and hand-writing.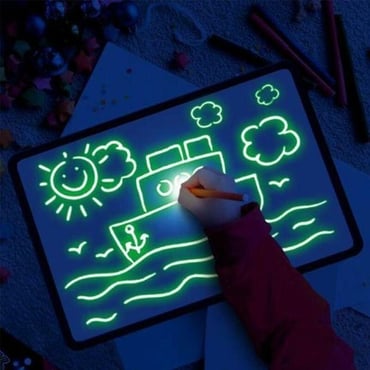 Take a special tablet with a light-accumulating coating, a flashlight marker and start drawing! 
From the touch of the "brush" to the "canvas" there will be light lines, the brightness and clarity of which depends on the distance from the marker to the tablet and the angle of inclination
Depending upon the light in the room, the maximum brightness of their artworks and patterns could last up to 30 minutes! The darker the room, the brighter the picture.
This is an ideal developmental and educational tool for children of all ages, in a fun, and creative game form. Stimulate your child's creativity, memory and imagination using this Art Therapy, and help reduce their fear of the dark. 
FEATURES:
Leaves no Marks or Stains
Fun For the Whole Family
Drawing Skills and Creativity

ISO Certified and is Harmless for Eyes

Worldwide Fast Shipping for All Orders

   
SPECIFICATIONS:
Item Type: Drawing Board (include stylus)
Material: PVC
S :Includes luminous pen, animal copy board, and eraser
M :Includes luminous pen, English copy board, and eraser
L :Includes luminous pen, English copy board, stickers, and an eraser
Package Include(s):
1 x Magic Light Up Drawing Pad for Children
 Pens & Erasers (you can easily wipe them off)
 Illustrator template available in English